Single-channel Pipettes, Adjustable Volume, PIPE-T
Volume range: 0.1μL to 10000μL
Large display window
Easy calibration and maintenance.
Share the product
Description
Pipettes cover a volume range from 0.1μL to 10mL.
Ergonomic design provides excellent operating experience.
Large display window allows for easy volume identification.
Easy calibration and maintenance.
8 and 12 channel pipettes are appropriate for 96 well plates.
Dispensing head rotates for effortless pipetting convenience.
Individual piston and tip cone assemblies allowing easy repair and maintenance.
Compound material-made tip cone secures high sealing performance.
Compatible with most universal tip brands.
Online calibration is available.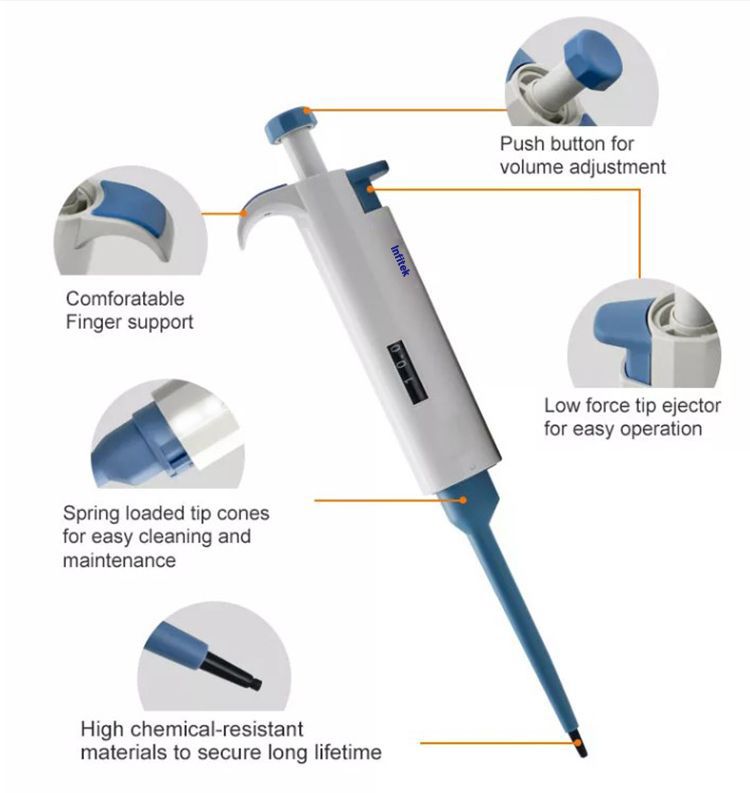 PIPE-T Single-channel Adjustable Volume Pipettes
Volume Range
Increment
Test Volume
(Accuracy error)
(Precision error)
%
μL
%
μL
0.1-2.5μL
0.05μL
2.5μL
2.50%
0.0625
2.00%
0.05
1.25μL
3.00%
0.0375
3.00%
0.0375
0.25μL
12.00%
0.03
6.00%
0.015
0.5-10μL
0.1μL
10μL
1.00%
0.1
0.80%
0.08
5μL
1.50%
0.075
1.50%
0.075
1μL
2.50%
0.025
1.50%
0.015
2-20μL
0.5μL
20μL
0.90%
0.18
0.40%
0.08
10μL
1.20%
0.12
1.00%
0.1
2μL
3.00%
0.06
2.00%
0.04
5-50μL
0.5μL
50μL
0.60%
0.3
0.30%
0.15
25μL
0.90%
0.225
0.60%
0.15
5μL
2.00%
0.1
2.00%
0.1
10-100μL
1μL
100μL
0.80%
0.8
0.15%
0.15
50μL
1.00%
0.5
0.40%
0.2
10μL
3.00%
0.3
1.50%
0.15
20-200μL
1μL
200μL
0.60%
1.2
0.15%
0.3
100μL
0.80%
0.8
0.30%
0.3
20μL
3.00%
0.6
1.00%
0.2
50-200μL
1μL
200μL
0.60%
1.2
0.15%
0.3
100μL
0.80%
0.8
0.30%
0.3
50μL
1.00%
0.5
0.40%
0.2
100-1000μL
5μL
1000μL
0.60%
6
0.20%
2
500μL
0.70%
3.5
0.25%
1.25
100μL
2.00%
2
0.70%
0.7
200-1000μL
5μL
1000μL
0.60%
6
0.20%
2
500μL
0.70%
3.5
0.25%
1.25
200μL
0.90%
1.8
0.30%
0.6
1000-5000μL
50μL
5000μL
0.50%
25
0.15%
7.5
2500μL
0.60%
15
0.30%
7.5
1000μL
0.70%
7
0.30%
3
2-10mL
0.1mL
10mL
0.60%
60
0.20%
20
5mL
1.20%
60
0.30%
15
2mL
3.00%
60
0.60%
12
ACCESSORIES AND PACKAGING
ACCESSORIES AND PACKAGING
Individual piston and tip cone assemblies allowing easy repair and maintenance