Glass Fermenter, GF-J Series
High precision peristaltic pump
Equipped with American Sartorius high-efficiency sterilization filter
Imported Swiss Mettler/Hamilton pH electrode
Share the product
Description
It is generally applicable to microbiological laboratories of scientific research institutes and enterprises, and is an ideal tool for precision fermentation experiments.It can also be used for the screening of medium formulation for microbial fermentation culture, the optimization of fermentation process parameters, and the verification of production processes and strain.
Features
Imported Swiss Mettler/Hamilton pH electrode, which can be sterilized by high temperature steam.
Equipped with American Sartorius high-efficiency sterilization filter, the filtration accuracy is 0.2μm.
Equipped with German PT-100 temperature probe and Siemens PLC controller.
The installation is simple and convenient, and it can be used when plugged in and connected to water.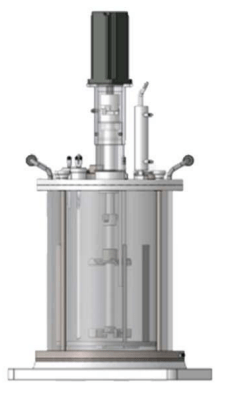 1. Machinery seal.
2. Parameters increase or decrease according to demand.
3. Intelligent PID control.
4. Real-time monitoring data.
5. Over-liquid alarm, automatic liquid refill.
6. Safe, stable and reliable operation.
Specifications
Model
GF-J1
GF-J2
GF-J3
GF-J5
GF-J7
GF-J10
Liquid Loading Coefficient
65-80%, 70% is optimal
Tank Configuration
Special temperature-resistant and pressure-resistant single-layer high-silicon borosilicate glass tank, the upper cover is made of 316L stainless steel or double-layer stainless steel + high-silicon borosilicate glass tank.
Stirring System
l Top-entry mechanical stirring system; aseptic mechanical seal system; top magnetic drive stirring;

l The imported servo stirring motor is easy to disassemble and assemble, and it is convenient for off-site sterilization;

l The standard three-layer blades are flat blades, inclined blades, and toothed defoaming paddles. The height of the blades is adjustable and detachable.

Structure
Desktop fermenter, compact structure,easy to operate
Ventilation System
l Deep ventilation, equipped with stainless steel annular distributor.

l Glass rotameter display, pressure gauge display, manual valve to adjust the flow.

l Equipped with American Sartorius high-efficiency sterilizing filter, the filtration accuracy is 0.2μm, and external compressed air is required.

l Equipped with high-quality decompression device, continuous and stable gas supply.

l The optional mass flow controller can automatically control the air flow.

Temperature Control
On-line detection, digital setting, automatic/manual control; German Pt-100 temperature probe, built-in electric heating device and external cooling water for automatic temperature control.
pH Control
On-line detection, 1-way or 2-way peristaltic pumps automatically feed alkali or acid for adjustment; imported Swiss Mettler/Hamilton pH electrode, which can be sterilized by high temperature steam.
Dissolved Oxygen

(DO)

l Online detection, the range is 0-100% or 0-200%.

l Imported Swiss Mettler/Hamilton DO electrode, which can be sterilized by high temperature steam.

l Can be linked with speed control, can be linked with feeding control.

Feeding Control
Standard 1-way peristaltic pump time proportional feeding,cumulative display and recording of feeding volume;10-segment feeding program, can be linked with DO.
Defoaming Method
l Conductive foam electrode, automatic alarm for abnormal foam conditions;

l Standard 1-way peristaltic pump automatically/manually feeds defoamer, cumulative display and record of the amount added;

l The defoaming pump can be switched to a feeding pump and used as a feeding pump, and 10-segment feeding programs can be set.

Control System
Industrial-grade control system, using Siemens PLC controller, 64-bit true color touch screen operation interface, complete functions and stable operation.
Sterilization Method
Off-site or on-site sterilization
Optional
1.Multi-way feeding

2. Feeding weighing

3. Oxygen-enriched bypass

4. Online detection of redox potential

5. Air flow automatic detection and control

6. Online detection of tail gas CH4, O2, CO2 content

7. Online detection of methanol (ethanol) content

8. Online detection of glucose and specific amino acids

Dimension of Control Cabinet  (L*W*H)
400*300*600mm
Weight of Control Cabinet
25kg
Stirring Speed
0-1000rpm(set arbitrarily)
Internal Dimension of Tank(Φ*H)
100*175
160*200
160*250
160*300
160*350
190*375
Nominal Volume
1L
2L
3L
5L
7L
10L
Weight of Tank
5kg
7kg
13kg
17kg
22kg
24kg
Shipping Dimension
800*450*750mm
Gross Weight
48kg
50kg
58kg
60kg
65kg
70kg