Water purifier, LWP-G2 Series
Water Outlet: 2PCS. for RO water, Dl water
Resistivity: 13-17.5MΩ .cm@25℃
Water Yield (25°C): 5/10L/H
Share the product
Description
Two lines of LCD display, three touch keys and one key operation;
Online monitoring of quality and temperature of pure water and high-pure water,
Protection from misoperation such as cleaning and circulation;
Early warning and protection from leakage and low pressure;
American DOW RO film imported with original packaging ensures long life of RO film and high water quality;
Resistance constant of conductivity meter.0.01 cm-1, temperature Sensitivity: +0.1℃, automatic temperature compensation;
The main power supply is 24VDC (low voltage) which conforms to the safety code. ABS engineering plastic housing and water-power separated structure adapt to humid environment, avoid damaging human body and produce lower radiation. The system adopts advanced EMC design and features strong interference immunity and low noise.
160*80*390mm integrated two-column purified module. The whole column is made of edible PP. Hot melt machine enables once forming and no adhesives and impurities will be separated out.
The system is integrally installed with 3L American Dow purified precise resin imported with original packaging. The effluent quality reaches up to 13-17. 5MΩ .cm.
It is an integrated system which produces pure water and high-pure water using tap water.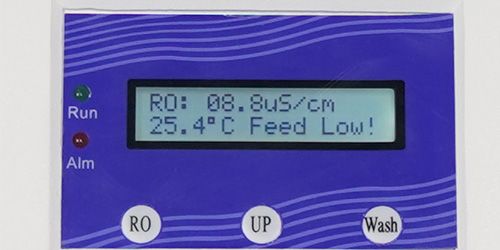 Two lines of LCD display
Three touch keys
One key operation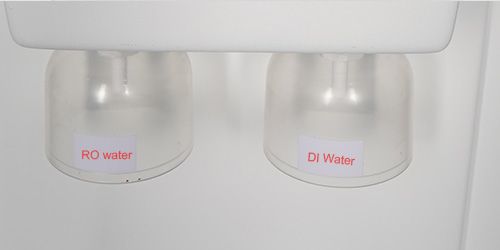 Water Outlet
2PCS.: RO water, Dl water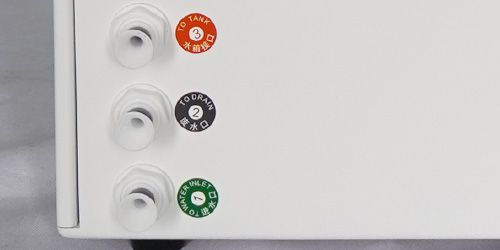 Water tank interface
Waste water outlet
Water inlet
Product Type
LWP-G2
Model
LWP-G2-5, LWP-G2-10
lnfluent Requirement
Urban tap water: TDS<200ppm, 5-45°C, 1.0-4.0Kgf/cm3 (if influent TDS>200ppm, external softener is recommended)
System Process
PP+UDF+UDF+PP+RO+DI
Indexes of DI Water
Resistivity
13-17.5MΩ .cm@25℃
Heavy Metal lon
<0.1ppb
PM (>0.2um)
<1/ml
RO Indexes
lon Rejection Rate
96%-99%(when new RO film is used)
Organic Rejection Rate
>99% (when MV>200 Dalton)
PM and Bacteria Rejection Rate
>99%
Water Yield (25°C)
5/10L/H
Instantaneous Water Yield
1.5-2.0L/min (pressure barrel is needed)
Water Outlet
2PCS.: RO water, Dl water
Size & Weight
(W*D*H) 315×440×470mm/ About 18Kg
Package
(W*D*H)620*530*970 mm / About 39Kg
Power Supply/Power/Noise
220V50HZ/ 50-80W/<50db
Standard Configuration
Host (including 1 set of purified column)+external 12L pressure barrel+ accessory bag