Rotary Evaporator, lab-scale, REV-1000AX
Evaporating Flask Volume: 1L
Lift Mechanism: Automatic lift
Rotation Speed: 0~310RPM
Temperature Range: RT.~210℃
Share the product
Description
Features
Large-screen color touch screen multi-data display, menu interface.
Commonly used experimental data storage, one-button start, fast distillation.
Heating bath, Teflon coating, easy to clean, corrosion resistance, high-temperature resistance.
Safe operation function in an unmanned mode, automatic standby after the experiment.
The special bottle return knob design makes bottle return simple and convenient.
Built-in vacuum control system, automatic pressure relief, convenient and quick setting.
The structure is compact and small, and it takes up less space.
Automatic lifting, with safety stop function, and timing function design.
With USB interface data export, and printing function.
Vertical, the condenser tube is designed with a drip point and an anti-backflow device.
Integrated glass shaft, stable start, forward and reverse operation.
Anti-dry protection, over-temperature power failure warning, and automatic standby protection.
The heating bath is designed with a safety handle to prevent burns.
Sealing parts: sealed imported PTFE special process mold synthesis.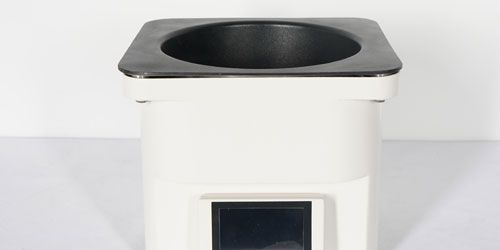 Heating pot, Teflon coating, easy to clean, corrosion-resistant, high temperature resistant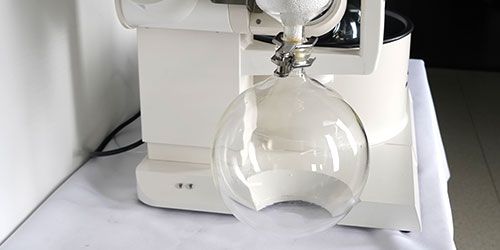 The special bottle returning knob design makes bottle returning simple and convenient
Model
REV-1000AX
Use Range of Sample Bottle
25~1000ml
Rotation Speed
Touch screen display, 0~310rpm/min
Vacuum Control
Vacuum control range; 0~-0.1Mpa (0~1013mbar); precision ±1Mpa (, vacuum degree can be controlled arbitrarily.

Automatic pressure release at the end of the experiment, jog/one-key pressure release function; 10-stage gradient distillation program control, step-by-step control of vacuum degree during synthesis experiment chromatography vacuum distillation; commonly used 39 kinds of experimental data storage, one-key start, fast distillation.

Evaporation Capacity
Max.25mL/min(H2O)
Equipment Vacuum
The vacuum inside the equipment can reach 2mbar.
Temperature Adjustment Range
Water and oil dual-purpose bath, water bath: room temperature ~99°C, ±0.5; oil bath: room temperature ~210°C, ±2°C;
Material of Heating Bath
One-time forming Teflon coating, easy to clean, corrosion resistance, high temperature resistance; heating pot with safety handle, shell heat insulation, prevent scald, moderate volume, rapid heating; equipped with a transparent protective cover: heat preservation, energy saving, explosion-proof, anti-corrosion splash.
Bath Dimension
φ20*11.5cm (approximately 3.5L), the sliding base of the heating bath can freely move 120mm to the right.
Sample Bottle
Forward rotation, reverse rotation, intermittent forward and reverse rotation, the intermittent time can be adjusted from 0 to 60s, which can be used for drying powder samples.
Temperature Control
Dual touch screen control system, digital display, over-temperature warning, automatic lifting, automatic pressure relief, and equipment shutdown functions.
Temperature Setting
Touch-type digital input setting, dual-screen control display, convenient and quick.
Safety Performance
Anti-dry over-temperature early warning, abnormal rotating motor early warning, automatic lifting of the sample bottle to the highest;

Timing function (0~999min), when the preset time is reached, the equipment will automatically release the pressure, lift and lower the evaporating bottle automatically, and the equipment will be standby for early warning and protection.

Heater
Fully enclosed heater. Power 1kW
Sealing Parts
Imported PTFE special synthetic material is selected, and the abrasive tool is synthesized through special process technology to enhance sealing, corrosion resistance and wear resistance.
Condenser
Vertical, three-layer ball mill mouth serpentine condenser, condensation area 0.18m², with drop point and backflow design (effectively improve work efficiency).
Ambient Temperature
5~40℃
Electricity
AC220V/50Hz
External Dimensions
55*36*64cm
Shipping Dimensions
67*50*46.5cm
G.W,
34kg
Factory Configuration
Sample bottle 1L*1; recovery bottle S35# ball mill mouth collection bottle 0.5L*1.